Are you starting with your new venture? Sure, you must be excited about the journey. A quick question though. Do you have a website for your startup? No?
Well, Alexander Pro Design is here to help. We offer a wide range of digital marketing services, and among them, we have our outstanding web development for startups which will help you achieve your digital goals.
Our Web Development Process
As the premier San Francisco Bay Area web development company, we are passionate about coding stunning WordPress websites that generate sales and look top notch. Our experienced team of Bay Area web designers, web developers and SEO specialists can help you with everything from concept development and custom web design straight through to web maintenance, SEO and post-launch support. We craft websites to perform by keeping abreast of cutting-edge trends like mobile-first web design and most importantly, anything that impacts your Google website rankings. We have done all kinds of web development projects from deeply focused landing pages to informational websites.
We ask you to answer our website questionnaire where we ask for an outline of your content, functionality requirements, website goals, target market and likes and dislikes about your website and / or your competitors' websites.
CONCEPT DEVELOPMENT & WEB DESIGN
We will refine one based on your feedback. Once you are happy with it, we we will continue mocking up your other pages until we have established the look and feel of all your key pages. We will even provide a preview of what your website will look like on mobile devices.
RESPONSIVE WEB DEVELOPMENT
Next, we code your website based on the mocks you approved and adjust it for mobile devices like iPhone, iPad and Android. We then implement WordPress so that all of your content is editable.
BETA TESTING & QUALITY CONTROL
We meticulously check it on all the popular devices and browsers before you even lay eyes on it and provide you with a private link to review it. We go over together based on your feedback on what changes we make next.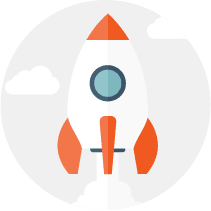 LAUNCH TO A SECURE HOSTING ENVIRONMENT
Once your website works and looks like what you had envisioned, we launch it for you. If you do not have hosting, we highly recommend Alexander Hosts for WordPress optimized hosting with lightning fast loading times.
SUPPORT & WEB MAINTENANCE
We are here to help you out. With WordPress making changes is very easy. If you prefer us to make changes reach out to us and we charge just per occurrence. No need for a monthly plan with us.